FedEx Mobile
Track, ship, and more
Get on the App Store.
View
FedEx Mobile
Track, ship, and more
Get on the Google Play store.
View
FedEx® Drop Box locations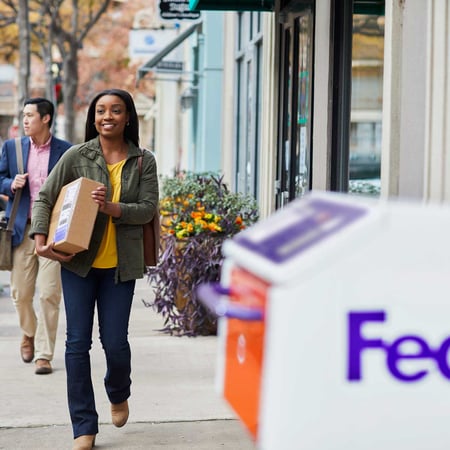 Fast, convenient and secure no-contact shipping
With thousands of FedEx Drop Boxes available nationwide, you can find one at a shopping center, grocery store or FedEx location near you.
Fast, simple and secure
Drop boxes fit your schedule with 24/7 drop-off for FedEx Express, FedEx Ground and FedEx SmartPost prelabeled shipments. Choose 1-,2- or 3-day shipping for FedEx Express. Or select FedEx Ground for shipments to arrive in 1-5 business days.
Boxes & sizes accepted
FedEx Drop Boxes accept a variety of packages from FedEx Express envelopes and boxes to packaging of your own with a FedEx label. Package sizes can vary, boxes up to 20" x 12" x 6" are accepted at a drop box near you.
Pickup times & hours
Drop-off times vary depending on location. Thousands of drop boxes across the country now offer extended drop-off times. Saturday pickup is also an option at select drop box sites.
FedEx shipping labels
Create a shipping label online or fill out an airbill using your FedEx account number. Print the label and affix it to your package, then bring your package to a FedEx Drop Box near you. No cash, check or credit card payments are accepted at the drop box location.
Convenient locations
FedEx also has nationwide FedEx Office locations offering packing and shipping services, as well as FedEx Ship Centers with late hours and cutoff times and the ability to ship some hazardous goods.
Drop Box guidelines
You can use FedEx packaging or your own with a FedEx shipping label. Packages should not be left outside the drop box. Bring packages too large for the drop box to the counter at a FedEx location near you. Choose from thousands of FedEx Office, FedEx Ship Center, FedEx Authorized ShipCenter, Walgreens, Dollar General, and grocery locations nationwide.